Wow, it's been a long time since I've viewed, let alone updated my blog. Much has happened these last 20 months.
In February, I suffered a mild bout of optic neuritis in my right eye. Vision is still wonky, especially when overheated or tired.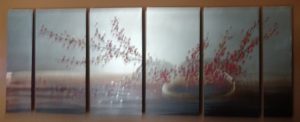 Imagine someone thumbing your contact lens and leaving a large, blurry, thumbprint that spans your vision.  Imagine colors and images fading into the background, but only slightly.
That about describes my ON.
Deemed "mild" by my neuro-ophthalmologist, it is highly annoying.  I was terrified when my symptoms began. Now that I've had time to adjust, I walk around thinking my eyeglasses need to be wiped for smudges constantly and I miss details all the time… I suffer from headaches and dizziness and balance issues, but do my best to mitigate all that. I started exercising more and have gotten into biking.
Even with these vision problems, I am still able to ride and enjoy being active. Just two weeks ago, I completed a 25-mile bike ride and am planning to ride 45 miles next year.  My motto is to live life to the fullest.
Which is why, in other news, I plan to expand this blog so it no longer focuses solely on my MS diagnosis. There is so much more to life.
So don't be surprised when you see other topics appearing on this blog. Topics that include:
writing
traveling
general health
mental health
exercise
healthy eating.
I am excited to venture into this new direction.
Stay tuned.